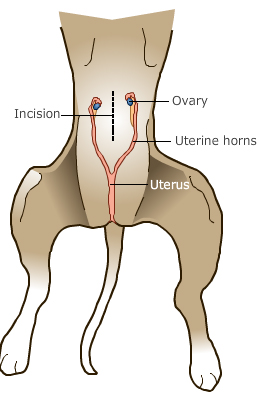 Spaying your pet has many benefits. The procedure, which prevents female animals from becoming pregnant and reproducing, can help your dog or cat live a longer, healthier life. Spaying will not change your pet's personality.
By spaying your female pet, you're protecting her against potentially deadly diseases, including bacterial infections, reproductive tract diseases, and several types of cancer. You also won't have to worry about her going into heat. This means avoiding the mess that often accompanies the heat cycle in female dogs and the pacing and crying that happens with female cats. In addition, spaying your pet will help control the dog and cat overpopulation problem, keeping more animals out of shelters.
Spaying, which involves removing the ovaries and uterus, is a surgical procedure and does need to be performed with the pet under anesthesia. We follow strict protocols and continually monitor your pet's vital signs to help ensure her safety. Please see the descriptions under Anesthesia and Patient Monitoring for more information on what we do to keep your pet safe.
To set up an appointment to have your pet spayed or to learn more about this procedure, call or visit our clinic. If you are struggling with the decision of whether to spay your pet, please call us so we can discuss your concerns.
Anesthesia like many parts of veterinary medicine are not the same from clinic to clinic, and practice to practice.  We "Make Lives Better" and that is the fundamental decision maker in everything we do.  When choosing anesthetic medications, monitoring systems, pain control and pre-anesthetic blood work we choose the smartest, safest and best options for your pet.  When your pet has surgery, it receives a physical exam, pre-anesthetic bloodwork, IV catheter and fluids, constant ECG and blood pressure and  monitoring, sterile instruments.  When you see your pet in the surgery ward it looks like you are having surgery.   We choose our premedication and anesthetic drugs based on all the preoperative information that we have available.  Each anesthetic plan and protocol is tailored to the patient.  We have the ability to use BOTH Isoflurane and Sevoflurane, just like every University Teaching Hospital and surgical referral center does.  We want the ability to choose the safest, highest quality, yet cost effective anesthetic plan available for your precious family member.   One aspect of anesthetic monitoring that Pine Cone Pet Hospital uses that most practices do not is constant Blood Pressure monitoring.  Blood pressure is one of the best ways to monitor the depth of anesthesia and a good indicator of whether to increase or decrease the level of anesthetic gas that your pet is receiving.  Most practices do not even have the ability to check blood pressure, and the ones that do will check it manually once or twice during the procedure.  At Pine Cone Pet Hospital our anesthetic monitor gives the doctor and veterinary technician a constant readout of blood pressure measured every couple of minutes.  This is an example of one of the many small details that we consider important, that other veterinary clinics may not have to keep the cost down.  Outwardly you cannot compare apples to apples when comparing prices of veterinary care.  Ultimately how do you want your pet treated?  We fundamentally make lives better, we just happen to be a great Veterinary Hospital.
Your OTHER Family Doctors
Our veterinarians at PineCone Pet Hospital, serving the pet and animal parents of Sartell, St. Cloud, Sauk Rapids, Waite Park, St. Joseph, Rice and St. Stephen, MN since 2001.