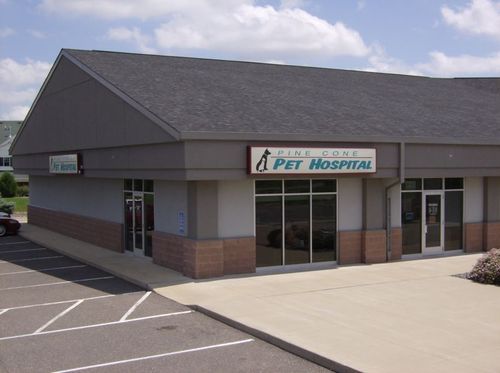 Pine Cone Pet Hospital is committed to providing high quality and personalized veterinary medical, surgical, dental and dermatologic services to Sartell and the surrounding area.  We offer wellness preventative care and vaccinations, as well as in-depth diagnostic and medical care, hospitalization, dentistry as well as soft-tissue and orthopedic surgery.  We focus on teaming up with the pet owner to develop a tailored wellness care, diagnostic and treatment plan that specifically meets the lifestyle, timing and financial needs of each individual family.  Our Veterinarians have expertise in many fields of veterinary medicine and can provide a local option for more advanced diagnostics, treatments and surgery.  We receive many referrals from many other area Veterinarians for our special interest in Ophthalmology, Dermatology, Allergy and Surgery. 
Pine Cone Pet Hospital provides many options for appointments to accommodate the busy lives of our pet parents.
DROP-OFF APPOINTMENTS: Admit your pet with us on your way to work or activities, and pick up on your way back home.  Phone communication allows your involvement in the wellness care, diagnostic and treatment process, while you are able to continue your busy life!
EXTENDED EVENING veterinary appointments are very popular.
CALL NOW for availability!
EMERGENCY: Our Veterinarians both have years of emergency and critical care experience. Please call 320-258-3434.  In the event we are unavailable to see your pet, our message system will prompt you to the Area Emergency Service.
WEEKENDS?: There are several reasons we have chosen to not be open on weekends.
1) We support our local Emergency clinic, Affiliated Emergency Veterinary Service.  AEVS provides excellent quality care and we would not hesitate to let those Doctors help our own pets.
2) If all of the practices in the area were open on Saturdays and Sundays, the emergency clinic would not exist and every clinic would be On-Call for their practices 24 hours per day / 7 days per week.
3) We want our staff to have time to be with their families, recharge, rest and go to their places of worship.  Our faith and our families are very important to us at Pine Cone Pet Hospital. (both 2-legged and 4-legged)
Our Patients:
Dogs
Cats
Rabbits
Guinea Pigs
Hamsters
Ferrets
Your OTHER Family Doctors
Our veterinarians at PineCone Pet Hospital, serving the pet and animal parents of Sartell, St. Cloud, Sauk Rapids, Waite Park, St. Joseph, Rice and St. Stephen, MN since 2001.