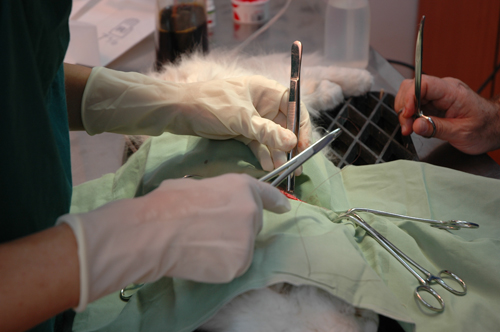 We perform many types of soft tissue surgeries at our veterinary hospital. Soft tissue surgeries are those that are not associated with bone. These surgeries can provide many benefits to pets.
Probably the most common soft tissue surgery performed on pets is the removal of masses, lumps and tumors. Most of these masses, once removed and tested, are found to be benign (nonharmful); however, occasionally they are more serious (malignant). Early removal and accurate diagnosis of a lump is necessary to improve the outcome in your pet if the mass is cancerous.  Frequently we are able to greatly increase your pet's longevity and quality of life with surgery.
If your dog suffers from frequent ear infections, surgical intervention can reduce their occurrence by improving airflow into the ear canal and allow proper treatment of medication to the ear canal.
Surgery can also help resolve several problems related to the eyes. Tearing in your pet's eyes can mean an infection is present or may be a sign that the cornea (outer layer of the eye) has been damaged. Surgery may allow the cornea to heal faster with less scarring, improving your pet's ability to see. In some pets, the eyelashes may actually damage the cornea. Surgical intervention improves comfort in these pets, reduces the chances of corneal scarring, and enhances the pet's vision in the long term.
Pine Cone Pet Hospital has advanced equipment and training to operate on many organ systems should the need arise with your family member.  Our ability to confidently and meticulously perform advanced soft-tissue surgery at our facility allows many of our clients to save the long trip to a referral center.  Local expertise means less time off of work for you and peace of mind.
Please contact us if you'd like to discuss how soft tissue surgery might be able to help your pet.
Anesthesia like many parts of veterinary medicine are not the same from clinic to clinic, and practice to practice.  We "Make Lives Better" and that is the fundamental decision maker in everything we do.  When choosing anesthetic medications, monitoring systems, pain control and pre-anesthetic blood work we choose the smartest, safest and best options for your pet.  When your pet has surgery, it receives a physical exam, pre-anesthetic bloodwork, IV catheter and fluids, constant ECG and blood pressure and  monitoring, sterile instruments.  When you see your pet in the surgery ward it looks like you are having surgery.   We choose our premedication and anesthetic drugs based on all the preoperative information that we have available.  Each anesthetic plan and protocol is tailored to the patient.  We have the ability to use BOTH Isoflurane and Sevoflurane, just like every University Teaching Hospital and surgical referral center does.  We want the ability to choose the safest, highest quality, yet cost effective anesthetic plan available for your precious family member.   One aspect of anesthetic monitoring that Pine Cone Pet Hospital uses that most practices do not is constant Blood Pressure monitoring.  Blood pressure is one of the best ways to monitor the depth of anesthesia and a good indicator of whether to increase or decrease the level of anesthetic gas that your pet is receiving.  Most practices do not even have the ability to check blood pressure, and the ones that do will check it manually once or twice during the procedure.  At Pine Cone Pet Hospital our anesthetic monitor gives the doctor and veterinary technician a constant readout of blood pressure measured every couple of minutes.  This is an example of one of the many small details that we consider important, that other veterinary clinics may not have to keep the cost down.  Outwardly you cannot compare apples to apples when comparing prices of veterinary care.  Ultimately how do you want your pet treated?  We fundamentally make lives better, we just happen to be a great Veterinary Hospital.
Your OTHER Family Doctors
Our veterinarians at Pine Cone Pet Hospital, serving the pet and animal parents of Sartell, St. Cloud, Sauk Rapids, Waite Park, St. Joseph, Rice and St. Stephen, MN since 2001.