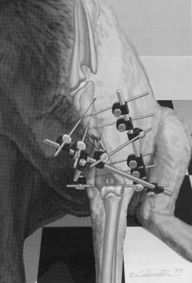 Dr. Walker Brown is proficient in both soft-tissue and orthopedic surgery and is TPLO Certified. 
One of the most common Orthopedic surgeries is the Tibial Plateau Leveling Osteotomy (TPLO).  Dr. Brown was trained and certified for the TPLO procedure by the same team that originally developed and patented the procedure: Slocum Enterprises in Eugene OR.  The TPLO has revolutionized the repair of Anterior Cruciate Ligament (ACL – Human term) also known as Cranial Cruciate Ligament (CCL – Canine term).
In central Minnesota you are limited in your options for advanced veterinary surgical care.
1) Referral to the twin cities to consult with a surgeon at a referral center or at the U of Minnesota teaching hospital.  Typically the fees as well as the travel expenses make this option much more expensive.
2) Having a traveling referral surgeon come to another local hospital in the St. Cloud Area.  This will have varying degrees of anesthetic quality and monitoring equipment.  As well as no follow-up care with the surgeon that performed the surgery.
3) Pine Cone Pet Hospital's meticulous and thorough certified surgeon treats your pet like it is his own.  We are an affordable choice for a high quality operating room and anesthesia protocol, with outstanding technical staff and monitoring.  Our great location allows for ease of check-ins and follow-up appointments.
Leg fractures is also a common orthopedic problem presented at our clinic and usually result from a mishap with an automobile. They can be treated in a variety of ways depending on the location and type of fracture. We can apply a splint to treat certain fractures; however, many fractures will require surgical intervention:
"Pinning" stabilizes the fracture by inserting a long stainless steel rod into the middle of the bone across the fractured area.
"Plating" involves attaching a flat stainless steel plate to the bone using screws on either side of the fracture.
"External fixation" stabilizes fractures using a series of pins on the outside of the leg that pass through the skin and into the bone on either side of the fracture.
Your OTHER Family Doctors
Our veterinarians at PineCone Pet Hospital, serving the pet and animal parents of Sartell, St. Cloud, Sauk Rapids, Waite Park, St. Joseph, Rice and St. Stephen, MN since 2001.