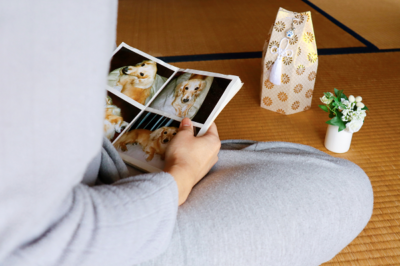 This Sunday marks Pet Memorial Day, a day to remember and celebrate all the pets we hold in our hearts. Pets bring joy, laughter, and unconditional love to our lives. They become members of our family that we can always depend on. They share our beds (even when they're not supposed to), wait for us to come home at the end of the day, and lick away our tears when we've had a bad day.
Remembering your and your pet's wonderful life together can be difficult when the grief is overwhelming. Memorials and keepsakes remind us of the good times when we're ready. Only you can understand the loving connection you had, so the desire to personalize your pet's memorial makes perfect sense. Below are some touching memorial ideas you might consider, or maybe one will spark some inspiration for other ideas.
Take the time to grieve the loss properly. Spend time looking at photographs of your pet. Spend the day with your family creating a scrapbook or collage with your favorite pictures and your pet's ID tags – laugh about the silly things your pet did! Or choose a favorite picture and frame it for display in your home.
Commission a custom tribute to your pet. Plenty of talented artists are available to paint a portrait of your pet. Several companies can create life-like felted replicas of pets. Some jewelers might be able to make an urn pendant so you can keep some of your pet's ashes close to you. If cost is of no concern, you can even have your pet's ashes infused into a lab-created diamond!
Plant a memorial tree or shrub in your yard. Memorial plantings are also available in some city parks or public spots where citizens can purchase a tree in memory of a loved one. A living memorial can be a long-lasting tribute to a beautiful pet.
Keep a memento in a special spot. A shadow box can hold your pet's collar, ID tags, photos, and paw print. Some people find comfort in keeping a favorite toy or blanket in a keepsake box. Touching the item can bring back fond memories of the fun you and your pet had playing with the toy or memories of your pet snuggled up on their blanket.
Contribute to a cause. Donate in your pet's name to a charitable organization that works with animals. Consider the shelter you adopted your pet from or, if your pet had a medical condition, donate to organizations that research the condition and educate pet owners about it.
Volunteer. A great way to remember a pet that has passed away is through your actions with pets that are still with us. Volunteer at your local animal shelter or consider fostering a pet waiting for a new home.
There are many ways to pay tribute to a pet that has passed. Just because your pet is gone doesn't mean it's forgotten. The pets we have lost will always have a special place in our hearts.