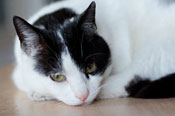 Losing a pet can be extremely difficult, sometimes even more so than you might expect. We have such a close bond with our pets, so letting go is never easy and is often filled with pain, sadness, depression—even anger. Our team understands these feelings, as many of us have also lost pets of our own. The emotions we go through are real and nothing to be ashamed of.
At Pine Cone Pet Hospital we are here for YOU.  Yes, we are here to make lives better for you and your pet, but sometimes the only way to make lives better is to help your pet family member have a dignified and humane passing.  We can alleviate suffering and discomfort when the bad days outnumber the good, and your pet is not the same anymore.  When quality of life is not there, we can help your family through one of the most difficult times.
Whether your loss is recent or you've been grieving for weeks, we are here to help you through this sad transition. We can also help your children understand and cope with their feelings. Please don't hesitate to contact us.  Please feel free to check these other resources for your families reference.
Other great resources:
Pet Loss Support Hotline (Iowa State University) = 515-294-1345
Minnesota pet loss support page
Your OTHER Family Doctors
Our veterinarians at PineCone Pet Hospital, serving the pet and animal parents of Sartell, St. Cloud, Sauk Rapids, Waite Park, St. Joseph, Rice and St. Stephen, MN since 2001.