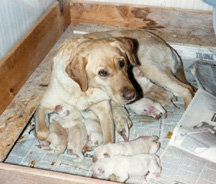 Humans are designed with large heads for cognitive function and relatively small pelvises for walking upright.  The design of dogs and cats makes the birthing process much easier, and most animals give birth without any complications. However, mothers occasionally need help with delivery. We usually attempt to resolve the problem using medical therapy first, but when that doesn't solve the issue, we will perform a caesarean section.
During a c-section, the mother is given an anesthetic. See our anesthesia section to read about how our veterinary hospital stands out. An incision is then made along her abdomen and through the uterus to retrieve unborn puppies or kittens. In some situations, we may recommend that the mother be spayed during this procedure, usually to prevent future problems of this nature. This will also prevent a pyometra which is a life-threatening infection within the uterus.
Our team will intently care for the new puppies, cleaning them and ensuring proper recovery, breathing, and activity before they are introduced to mother for the first time.  Anesthetic recovery is monitored very closely and usually the whole family is discharged within hours so proper nursing and nurturing can occur at home.
Our Veterinarians at Pine Cone Pet Hospital have years of emergency and critical care experience.  Their experience and expertise will give your dog and her puppies the best chance at thriving.
Your OTHER Family Doctors
Our veterinarians at Pine Cone Pet Hospital, serving the pet and animal parents of Sartell, St. Cloud, Sauk Rapids, Waite Park, St. Joseph, Rice and St. Stephen, MN since 2001.